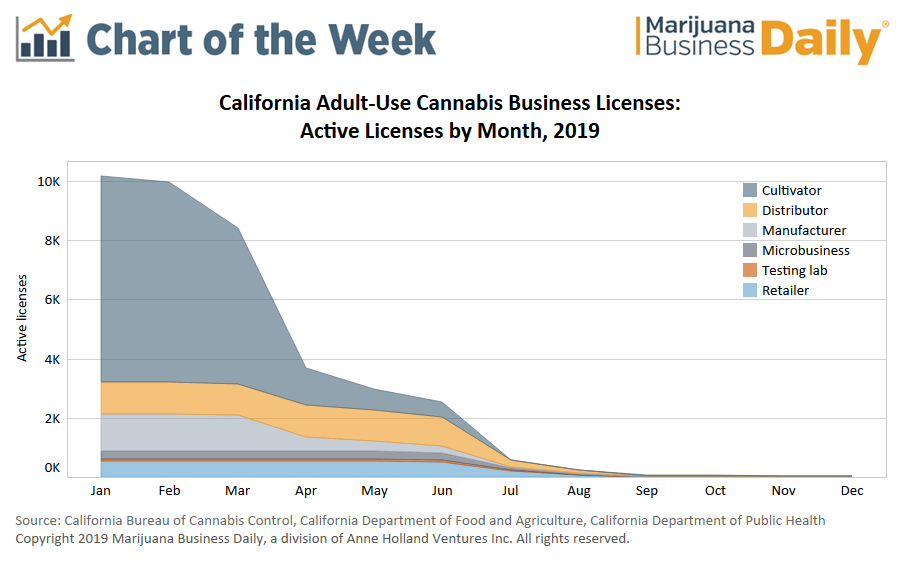 California's cannabis industry is facing a licensing quandary, which state legislation likely will address, but the situation could still prove problematic for businesses that want to comply with the law instead of joining the illicit market.
The problem: Thousands of temporary business licenses – under which most of the legal MJ supply chain has operated since the start of 2018 – will likely expire well before the state finishes processing annual or provisional licenses to replace the temporary permits.
That might leave much of the industry without any legal way to keep doing business, at least for a short while, if the temporary permits expire and companies have yet to receive a provisional or annual permit.The fix on the way is Senate Bill 67, which would extend the lifespan of temporary permits. But the lawmaker running the bill told Marijuana Business Daily that it might be the end of May before the measure becomes law.
According to an analysis of state license data by MJBizDaily:
249 cultivation licenses expired in January and February, and another 5,500 are set to expire in March and April.
800 manufacturing licenses will expire in March and April.
No retail, microbusiness or distributor licenses will expire before May, and no testing lab licenses will expire before June.
The thousands of expiring cultivation and manufacturing licenses could translate into a short-term marijuana supply shortage for retailers and other businesses whose licenses remain valid.
Any prep work being done?
What's the industry doing to prepare for possible disruptions?
Not much, aside from hoping the situation doesn't come to a head.
MJBizDaily spoke with 16 industry insiders, including growers, manufacturers and distributors – as well as lobbyists and trade organization spokespeople – to see what businesses were doing to prep for a potential supply-chain breakdown.
Though all expressed concern, not many were preparing for either a temporary shutdown or supply shortages:
Some said they're keeping in close contact with state regulators and lawmakers.
A few said they may shut down temporarily and rely on savings to get them through.
Some cultivators insisted they'd continue growing without permits, but one grower mentioned possibly suing the state.
"It's such a big issue that it's hard to fathom," said Kristi Knoblich, chief operating officer of Oakland-based Kiva Confections.
Kiva's temporary manufacturing license expires April 24. But Knoblich said the company's executive team hasn't started discussing what they'll do if the company fails to receive another permit before then.
She said it's possible Kiva may change suppliers if some distributors or farms run out of product.
"Probably before the end of the month, we would have to escalate the issue to the higher-ups at the Department of Health," she said, referencing the state agency that oversees manufacturers.
Dr. Robert Flannery, CEO of Dr. Robb Farms in Desert Hot Springs, faces the expiration of his temporary cultivation license at the end of March.
"We're in a very fortunate situation because we have enough capital that would pull us through for some time," Flannery said. "We have some groups that we know of and are working with that are not so lucky, and if it gets to that point … they're basically going to shut it down until they get (their licenses) in hand.
"That potentially is a very expensive proposition, because if you're not bringing in sales, that burn rate is very high."
Flannery has been advising other cultivators to consider taking on additional investors to weather any coming storm.
Asked how much money a small farm may need, he said, "A million, 2 million, it really depends on what your burn rate is."
Distributors may soon begin stocking up on inventory in anticipation of a legal supply shortage, said Lauren Fraser, the director of the Cannabis Distribution Association.
A lot of growers and manufacturers are looking to unload product before their temporary permits expire, she said.
"Distributors are getting a lot of inquiries from cultivators and manufacturers seeking to transfer inventory to distributors before their licenses expire," Fraser said. "Many distributors' temporary licenses are extended out through Q3, whereas many cultivator and manufacturer licenses are set to expire in Q2.
"Shifting inventory into distributors' custody is a possible solution in the event that these licenses do lapse without a provisional solution."
Other industry insiders noted many cultivation facilities are still getting up and running, meaning any supply shortage – if one occurs – will be short-lived.
"I'm aware of several large-capacity growers coming online. So, the supply is going to be there," said Adrian Sedlin, the CEO of Canndescent, another Desert Hot Springs cultivator.
Sedlin added that his licenses are valid until July, so the only thing he's concerned about is potentially losing some retailers whose licenses could lapse.
Licensing waits could bolster illegal market
Another common refrain was that a lack of licensure won't stop longtime marijuana growers from doing what they do best.
"If they think that peoples' licenses running out is going to stop people from growing pot, they're nuts," said Tobias Hafenecker-Dodge, the owner of Humboldt Growers Network, who noted that he has seven grow licenses in Humboldt County that are on the verge of expiring.
However, he believes a last-minute solution will be found.
"None of that is actually going to happen. … The state, they're going to get 30 days from now, and they're just going to extend the licenses," Hafenecker-Dodge predicted. "They need to keep up with us, end of story, and they will."
One 70-year-old grower in Mendocino said his temporary license will expire this month, and if he can't get an extension, he'll keep growing the way he has for 40 years.
"Catch me if you can," he quipped.
Source: https://mjbizdaily.com  /  Published March 11, 2019 | By Eli McVey, Maggie Cowee and John Schroyer